Blake Lively for Elizabeth Bennet?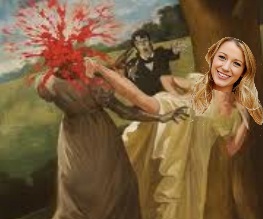 Hey, if you can't have your first choice for a lead actress, you go for your second. Or your fifth, as Craig Gillespie has just discovered. Nobody wants to take on the lead role of Elizabeth Bennet in Pride And Prejudice And Zombies. We can't imagine why…
Emma Stone gave him a resounding "hell no!". Natalie Portman politely declined, despite already being a producer. Mia Wasikowska and Scarlett Johansson also backed away from this novelty-book to film production, so we're guessing Blake Lively must be feeling pretty special right as she noses into the esteemed place of fifth runner up to the fiery lead in this Austen parody.
The concept, if you hadn't been able to guess from the cryptic title, is pretty simple. Elizabeth Bennet, much in the fashion of the original novel, is busy searching for love and independence. Unlike Austen's version, however, she has to contend with a zombie plague as it ravages the Berkshire countryside. REMOVE THE HEAD OR DESTROY THE BRAIN, BENNET!!!
Will Blake be the yes Gillespie's been waiting for? Who knows. It would definitely be a plum role, not to mention a significant change of pace for the strictly television actress; Gossip Girl eat your heart out.
About The Author