Brangelina Sue British Press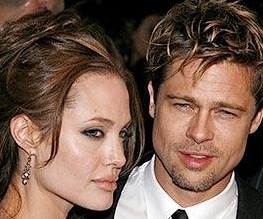 Oh dear oh dear. It's not like the British press to get into trouble with celebrities, is it? Ahem. Ah well, generally speaking any naughty newspaper that reports something not strictly true (we're being kind here) has to simply write a retraction upon being shouted at by an angry celebrity.
But after being asked to retract speculation about Brad Pitt and Angelina Jolie's meeting with a divorce lawyer, The News Of The World ploughed on with the marriage-break-up story regardless. And now they have to face the wrath of two of the biggest celebrities in the world. We don't know about them, but we'd be scared. The couple deny all allegations of the potential break-up, and have stated that the stories about visiting a divorce lawyer to seperate their $205 fortune are lie. Brangelina's London lawyer has stated
"The News of the World has failed to meet our clients' reasonable demands for a retraction of and apology for these false and intrusive allegations which have now been widely republished by mainstream news outlets. We have advised them to bring proceedings, which they have now done."
In other words- it's on. Crimety.
Who's telling porkies here? The News of the World, or Brad and Angie? Let us know what you think about it all…
About The Author