Burton releases Frankenweenie 'Homage' trailer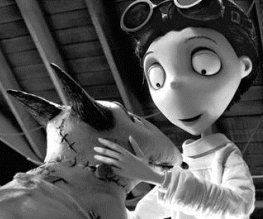 Fresh from the San Diego Comic-Con, this is the latest trailer from Disney's Frankenweenie, designed to pay tribute to the horror classics of the 1950s. Out in cinemas on October 5th, Tim Burton's third stop motion animation (after The Nightmare Before Christmas and Corpse Bride) was filmed in black and white and tells the story of Victor, a young boy who conducts a science experiment to bring his dog Sparky back to life. Missing Johnny Depp and Helena Bonham-Carter, but resplendent with Burton classics like completely spherical eyes and everyone in stripes, Frankenweenie has characters with names like Elsa Van Helsing, Edgar "E" Gore and Mr. Burgermeister and stars Charlie Tahan, Christopher Lee, Martin Short, Catherine O'Hara, Winona Ryder and Robert Capron.
Inspired by the loss of a childhood pet, Burton originally created Frankenweenie as a short in 1984, initially designed to accompany the re-release of Pinocchio. Children were obviously a lot nicer in the 80s because when the short was first shown Burton claims "everybody all freaked out, and then when we watched Pinocchio, and half the audience of kids were screaming and leaving". Evidently the Disney market of 2012 have been Burtonified enough for the feature version, with a undead dog now considered 'adorable' as opposed to 'completely terrifying'.
See if you can endure all 32 minutes of this…Happy Friday 13th

About The Author