Cameron Diaz – Bad Teacher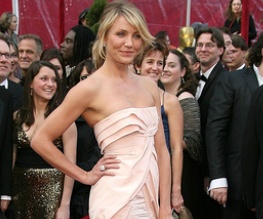 Teenage boys will soon be fantasising about detention with Cameron Diaz. Male teachers will be daydreaming of staff meetings with the blonde bombshell and female teachers will be sighing with relief at the fact that girls that look like Diaz don't become teachers in real life. Why? Because come spring she will be gracing our screens in a(nother) new rom-com, Bad Teacher.
Filming begins next spring and the movie sees Diaz playing the titular role of the bad teacher – perfect because Diaz is not a novice at being the bad girl. She will have no problem portraying a gold-digging, foul-mouthed middle-school teacher. After being dumped by her boyfriend, Diaz goes up against one of her colleagues and sets her sights on wooing another teacher to get over her heartbreak.
The script was written by Lee Eisenberg and Gene Stupnitsky, writers of The Office and directed by Jake Kasdan (Walk Hard: A Dewey Cox Story). Considering the genius of The Office we might expect something spectacular (as spectacular as a rom-com can get at least), but as their most recent work was the diabolical Year One starring Jack Black as a comic caveman, we won't hold our breath for anything too amazing. Even so, at least we'll finally get to see that sometimes teachers can be naughtier than their students.
About The Author