Cameron Diaz to star in new Muppet film?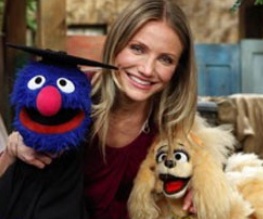 For now this will sit firmly in the rumour section, but according to whispers on the film wind it could be that Cameron Diaz will star in the new Brian Henson muppet creation; The Happytime Murders.
The concept for this film has been kicking about for a while – a much darker, seedier take on the muppet universe, where the colourful creations are treated as second class citizens by the humans they co-exist with. The plot will centre on the the furry cast of once-popular kids' show – The Happytime Gang – who are being picked off one by one, and the only ones to figure out who or what is behind the deaths are a washed-up private eye puppet and his former LAPD partner – some good fer nuthin human being. Think Who Framed Roger Rabbit meets Avenue Q, for those of you cool enough to be well up on your musical theatre knowledge.
Though Diaz has yet to confirm her involvement, we're feeling pretty hopeful. Who wouldn't want to be involved with a blackly comic muppet-fest? More on this as we get it, but surely Kermit can sweet talk the ladies into anything…
About The Author