Castle Wolfenstein film back on track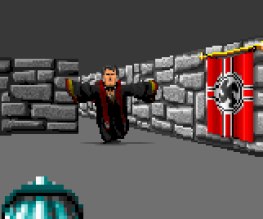 It's had a few trips around the rumour mill, but a film adaptation of archaic first-person Nazi-blaster Castle Wolfenstein looks to finally be picking up steam. The right kind of steam too, with long-time fan and Pulp Fiction co-writer Roger Avary attached to write and direct.
With the film on course to be a propulsive adventure in the vein of Captain America and Inglourious Basterds, Avary had this to say about the upcoming project: "I have always thought Wolfenstein, transformed and opened for the screen to wider audiences not familiar with the games, would be a major cinematic experience, which is why I introduced it to Samuel [Hadida, Silent Hill producer]. He bought the rights, and I could not be happier that we are now embarking on this adventure."
The basic premise (and we mean basic) of the original videogame sees a US Army grunt chain-gunning his way through waves of mutant Nazis in a sinister castle -duh- until arriving face to face with an armour-plated Robo-Führer. We'd watch it.
It's not hard to see its influence in both Captain America's Red Skull and the trigger happy Nazi-hunt of Inglourious Basterds. Under the wing of the seasoned Avary, let's hope the film avoids the pitfalls of Doom's ill-fated trip to the movies.
About The Author