Chad Michael Murray resurfaces in The Haunting of Connecticut 2 trailer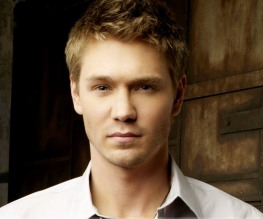 Chad Michael Murray, the golden-haired heartthrob of TV's One Tree Hill, was in a couple of movies a while ago. You remember House of Wax, right? And A Cinderella Story? And Freaky Friday? Many had him pegged as the modern-day Clark Gable. Now we have a real chance to be thankful for Chad Michael Murray, as he might just be the best darn thing in the latest unnecessary horror sequel – The Haunting of Connecticut 2: Ghosts of Georgia.
We can hear your baffled mumbling already: "But.. But… But… Georgia isn't in Connecticut? Is it?" NO. NO, IT'S NOT. Chad Michael Murray's comeback vehicle is most certainly in the running for the most contradictory and confusing film title of all time. This specific case of ridiculitis might be explained if the original The Haunting in Connecticut, released in 2009, was a smash hit and therefore worthy to hitch Chad Michael Murray's viciously-cheekboned trailer to, but this is not the case. The Haunting in Connecticut, which for some unknown reason did not star Chad Michael Murray, was very VERY loosely based on the real-life story of the Snedeker family, and this seems to be the only point of similarity between the original and this upcoming sequel.
The Haunting of Connecticut 2: Ghosts of Georgia is allegedly based on a true story from 1988 later explored on the Discovery Channel series A Haunting. The Wyrick family, which consist of Chad Michael Murray, his wife (Mad Men's Abigail Spencer), and their cute-but-inevitably-going-to-be-possessed daughter Heidi (Emily Alyn Lind), move to a new house in the woodlands of Georgia (not in Connecticut) where little Heidi begins to make some rather strange new friends. Friends who, according to this trailer, like standing in bushes and sitting on swings. Heidi's free-spirited (movie-talk for annoying) aunt, played by Katee Sackhoff, turns up to live with them, then everything goes bat-shit mental and they have to call in some 'experts'.
These 'experts' then inform Chad Michael Murray and others that their lovely new house used to be part of the Underground Railroad that helped runaway slaves escape to freedom in the North until the Stationmaster met a sticky end. That bit sounds quite interesting, right?! Lingering ghosts left from the horrors of the antebellum South is definitely a new twist on the tired haunted-house formula, but what remains to be seen is if Chad Michael Murray and his selection of vests can add a sparkle of magic to the latest in the Connecticut franchise. The one set in Georgia.
Somehow a third film is lurking around in the sewer pipelines. Provisionally titled A Haunting in New York, we are waiting with bated breath for it to be renamed something ludicrous.
In honour of Chad Michael Murray, we'd like to know which role you think was his best (to date). List below.
About The Author