Check out the 'Rise Of The Guardians' trailer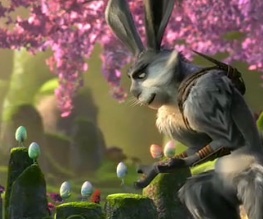 There's no better way to inject sheer joy into your Thursday than by laying your eyes all over The Rise Of The Guardians trailer.
The folks at Dreamworks never fail to impress us with their vivid imaginations and they've DEFINITELY raised the bar with this little slice of crazy.
The story focuses on the likes of Santa Claus (Alec Baldwin), the Easter Bunny (Hugh Jackman), the Tooth Fairy (Isla Fisher) and the Sandman (no idea… maybe the ACTUAL Sandman is playing himself?) forming an alliance to spread loveliness and wonder throughout the world.
But, as always, an evil Brit has to come along and ruin it all. Cue the Boogeyman (Jude Law), a creature so dark and so very malevolent that all he wants to do is DOMINATE the WORLD through FEAR!
Check it out…
The only way for our four heroes to combat this new theat is by recruiting a new member. And, while Jack Frost (Chris Pine) isn't famed for his warm and benevolent nature, not to mention his team-playing abilities, he is literally their only hope.
"Help me Jack Frost. You're my only hope."
It looks fun, doesn't it? It looks like good old Dreamworks fun. Plus anything that puts hardman Hugh Jackman in the guise of the Easter Bunny is, obviously, already halfway to being the best thing ever.
Are you excited for Rise Of The Guardians? WE ARE!!!
About The Author