Colin Firth joins cast for Before I Go To Sleep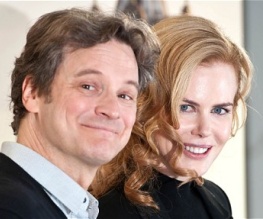 Colin Firth has joined the film adaptation of Before I Go To Sleep, the bestselling debut novel by British author S.J. Watson. The film will be directed by Rowan Joffe, who wrote 28 Weeks Later and directed Brighton Rock. The story is of a woman who wakes up every morning with amnesia and forgets who she is. She keeps a journal to remind her, and relies on her husband for help.
Nicole Kidman has been cast to play the woman with amnesia and Firth will play her husband. Through her journals, the woman finds that her husband is not who he says he is and makes some terrifying discoveries. The pair recently teamed up in The Railway Man directed by Jonathan Teplitzky, due out later this year. Also starring in Before I Go To Sleep are Mark Strong, who will play the psychotherapist hired to find out more about the woman's condition, and Anne-Marie Duff, whose part is still unknown. Ridley Scott is on board as a producer.
Ben Davis, cinematographer for Kick-Ass, Seven Psychopaths and The Debt, will be filming. Before I Go To Sleep is set to start shooting in London later this month at Twickenham Studios and various other locations.
Have you read Before I Go To Sleep? Are Kidman and Firth well cast? Let us know below.
About The Author