David Bowie and Iggy Pop to share biopic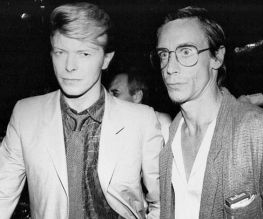 The news of a potential David Bowie and Iggy Pop biopic has turned the BFF office into a nostalgic 80s pop discotheque (not really, we're all listening to Low on our headphones). Death of a President director Gabriel Range has been attached to helm the project, titled Lust for Life, which will focus on the relationship between the unconventional musicians when they lived together in Berlin during the 1970s.
Remember when we told you that Iggy Pop's biopic had been cancelled over 2 years ago? Well, for you all new BFF readers, that biopic (called The Passenger – what a song) was to star Elijah Wood and was tipped to be the best thing since sliced Beatles (not sure by who). But that was then and this is now, Iggy will have to share the spotlight with Bowie instead. Hopefully the film won't include any scenes of the Stooges frontman washing himself in a bucket like in Cry Baby.
The script will be written by Robin French, who currently writes for Andy Samberg's British hippy comedy Cuckoo. With controversial director Gabriel Range on board as well, Lust for Life looks set to be as strange as the musical duo themselves. French has based his script on Paul Trynka's official biographies Starman: David Bowie and Open Up and Bleed: Iggy Pop, so it won't all be bollocks.
Ziggy and Iggy's glamorous rock lifestyle has previously inspired 1998's unofficial biopic, Velvet Goldmine, starring Ewan McGregor as Iggy and Jonathan Rhys Meyers as Bowie, but Lust for Life intends to focus on the musicians' life after their heavy drug addictions, which makes a nice change for films about rock 'n' roll lifestyles. Now, who to play the role of gender-shifting Ziggy Stardust and Iggy? Lindsay Lohan, are you free?
While we wait for casting news, here's Bowie's new song in the weirdest video ever.
Are you excited for Lust for Life? Let us know below!
About The Author