David Strathairn joins the cast of Lincoln!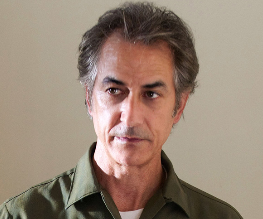 If any cast of any film could use their cumulative acting talents to take over the world, then perhaps the cast of Steven Spielberg's upcoming Presidential biopic Lincoln would be best equipped to do so, especially now that the criminally under-rated David Strathairn has hopped on board! Huzzah!
Strathairn will be taking on the role of William H. Seward, Lincoln's Secretary of State, and a man equally as awesome, if not more awesome, as Strathairn himself. Some fun facts about Seward for you: he was a staunch abolitionist (good lad), he shrewdly bought Alaska from the Russians (HE BOUGHT ALASKA! WITH MONEY! THAT'S MENTAL!), and he survived an assassination attempt from the same band of goons that did away with Lincoln himself. Pretty. Bloody. Awesome.
Strathairn is an unbridled carthorse of an actor, seemingly always doing something interesting. Most recently seen in the Allen Ginsberg biopic Howl, he has also appeared in The Bourne Ultimatum, Harrison's Flowers, The River Wild, and was Oscar nominated for his role as Edward Murrow in Goodnight and Good Luck.
It's difficult to quantify just how good this cast is right now! Joining Strathairn are (deep breath)…Daniel Day Lewis, Joseph Gordon Levitt, Sally Field, Tim Blake Nelson, Tommy Lee Jones, James Spader, Hal Holbrook, and enough other great actors to fight off the South with their eyes closed. Filming will begin in Virginia this autumn, with a release scheduled for late 2012.
Is that the tingling of Oscar buzz I feel? Could Strathairn make out with a Best Supporting Actor gong? Let us know your thoughts!
About The Author