David Yates to take on The Stand?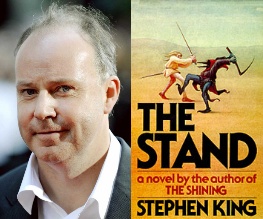 Get this. Now Harry Potter is done, David Yates is getting back on the horse with none other than The Stand THREE-FILM ADAPTATION FRANCHISE BONANZA.
For those of you who don't know, The Stand is… good gosh there is so much in it we don't know where to start. It's a novel by Stephen King that is split into three handy parts – the first, 'Captain Trips', which sees a superflu virus that cleanses almost everyone off the face of the Earth. Then there's 'On the Border', a book that follows two camps of survivors – one good and one downright evil. Then finally 'The Stand' where they battle it all out in a grand finale.
Sound good? We think so, and if there's any man for the job it's David Yates. It seems like the perfect project to keep his Harry Potter success on the burner, and is also one of the most exciting adaptations we've heard about in a long time.
There's plenty of whispers going around about David Yates' next project with rumours linking him to a new Al Capone story Cicero and a Vertigo Comics adaptation, Fables. But David good man, we implore you, make The Stand happen. And if you don't we'll never write any news about you again ever. So there.
About The Author