Deadfall trailer defies non-existent expectations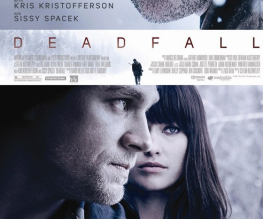 What's Deadfall, you ask? We didn't have a clue either, but here we are, screeching and pointing you frantically towards the trailer for the simultaneously hideous and brilliant-looking Bonnie-and-Clyde thriller starring Eric Bana (Star Trek) and Olivia Wilde (Tron: Legacy). Set somewhere very very cold indeed, Oscar-winning director Stefan Ruzowitzky (The Counterfeiters) has created a way more fun version of Narnia, with guns instead of Turkish delight.
[swfobj src="http://www.hulu.com/embed/CXK5bzjk93wx2zL_6_PNtQ" width="512″ height="288″]
Bana and Wilde play two siblings with decidedly incestuous leanings who get into an accident following a casino heist gone wrong – after that, they split up, Wilde nearly freezes to death, and gets rescued by a tasty troublemaking boxer played by Charlie Hunnam (who seems to be becoming a bit of a thing, see Frankie Goes Boom). He's on his way home to his parents' for Thanksgiving, Kris Kristofferson (Blade) and Sissy Spacek (Carrie), and shit proceeds to get real.
We watched the trailer mostly for a laugh; however, after a successful premiere at the Tribeca Film Festival, we're just quite thrilled by the cast's performances; there's a delightfully trollopy Wilde, Hunnam pulling his best earnest-face and a genuinely creepy Bana, who comes complete with a dirty fringed jacket, itchy trigger-finger and oddly-believable Southern twang.
We don't know why we're excited, but we ARE. If it comes out in the UK, it'll be around December 2012.
About The Author