Debut trailer for The Beaver arrives online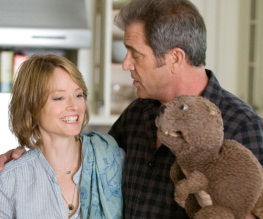 The first official trailer for Mel Gibson and Jodie Foster's The Beaver has arrived online and it's, well it's not as insane as many had feared.
For the first time, we get to see Walter Black (Gibson) struggle with life until he crosses paths with an abandoned beaver puppet. Sporting it as some sort of fetid safety blanket, Walter goes about the daunting task of rebuilding his life.
With the initial stupidity of the premise explained away with cod-psychology and an unexpected dose of heart, The Beaver looks set to prove a surprisingly dignified look at one man's insecurities and the stress it exerts on his entire family – what else might we have expected from third-time director Jodie Foster?
The fact that all of this plays out to the tones of one Frightened Rabbit (seriously, look them up) creates a poignant, touching but ultimately uplifting atmosphere that, in 2 minutes and 25 seconds, sells the movie to me irrevocably. Although no release date has been announced, Summit Entertainment have suggested that they are targeting a Spring 2011 release for the States.
About The Author