Despicable Me 2 teaser for a teaser for a teaser trailer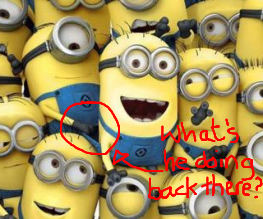 Despicable Me 2 is out in summer 2013, but Universal have given us an early in-depth look to the sequel of 2010's Despicable Me. Actually… no, no they have not. In what they have called a 'Thanksgiving teaser' we get a whole 11 seconds of those yellow corn kernel things from the first Despicable Me and some turkeys. Oh well, it's better than nothing. Let us give thanks for this bounty.
There you have it. Was it worth it? Will you ever get those 11 seconds of your life back? Does this make your mouth water for Despicable Me 2? Anyone?
Details about Despicable Me 2 are few and far between, but we do know that those walking bogies get kidnapped. The humanity! Aside from Steve Carell, Kristen Wiig is returning to the Despicable Me recording studio, and they are to be joined by Al Pacino, last seen making out with Adam Sandler in Jack and Jill. What the hell is that guy doing with his life?
No word as to whether Jermaine Clement from Flight of the Conchords will voice Jerry the Minion again, but we certainly hope so!
When we hear some actual news about Despicable Me 2, we'll let you know. How good was the first Despicable Me?
About The Author