Jesse Eisenberg in pictures from Ayoade's The Double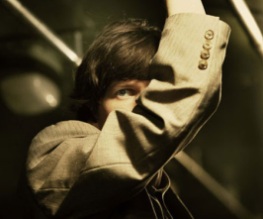 Jesse Eisenberg is a good egg, we suspect. He played Mark Zuckerberg, you know. And now he's starring in Richard Ayoade's second directorial venture, The Double. Oh Jesse Eisenberg, you and your sensible acting decisions. When are you going to loosen up and star in a Uwe Boll film? BloodRayne Part 6: Blood Blood Vikings Blood starring Jesse Eisenberg, anyone?
The Double stars Noah Taylor, Mia Wasikowska and Yasmin Paige alongside Jesse Eisenberg, and tells the story of an office worker who is driven mad when his doppelganger starts working for the same company. Based upon a short story by Dostoevsky, Ayoade's film looks set to follow in the footsteps of his debut, Submarine and be a darkly comic, quirk-filled tale.
But enough gassing, here's the two photos for you to get your eyes all over (click to go big):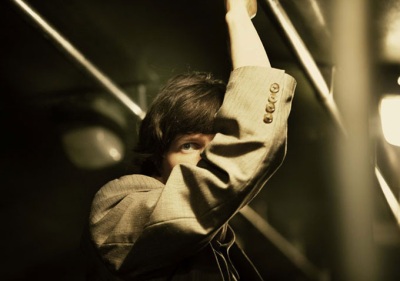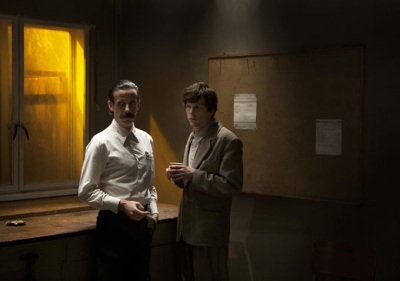 Looks fairly atmospheric, right? RIGHT. Anyway, here's a snippet from an interview with Ayoade courtesy of Crave (make sure you read the interview in full because it's very amusing):
What can you tell us about the next film you directed, The Double?
Well, we're just coming to the end of the shoot. I've got Jesse Eisenberg and Mia Wasikowska in it. They're great I think.
Are there two Jesse Eisenbergs in that?
Yup, yeah. He plays his doppelganger so yeah. There's two of him.
How did directing The Double compare to the maybe smaller scale Submarine?
Well, it's similar. Everyone who's in Submarine is in this as well. It's very different to Submarine.
What about working with the visual effects that are necessary to duplicate Jesse Eisenberg?
Yeah, technology is quite advanced now so you try and capture it in, just try and film it how you would film it if there really were two people, and then just try and work out the details.
Do you benefit from the technology of Multiplicity and Jack and Jill?
I think the technology of motion control has been around for a while. It's become more advanced. Hopefully it's more like Adaptation than Jack and Jill.
What would you say is the tone of The Double?
Well, I haven't edited it yet so I don't know. We'll find out. I mean, I think it's quite dark, almost like a horror film.
Excited for The Double? We certainly are.
About The Author