Devil Wears Prada sequel on the way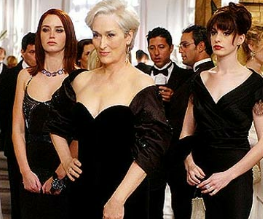 Six years after Meryl Streep blazed her way onto our screens as Miranda Priestly in The Devil Wears Prada, it might be that she has to don the terrifying stilletos once again. Lauren Weisberger – author of the original The Devil Wears Prada book – has announced that she's beginning work on a sequel, entitled Revenge Wears Prada.
Based on her own experiences as an intern at Vogue, Weisberger based the character of Miranda Priestly on Vogue editor Anna Wintour. So will miss Priestly/Wintour feature heavily in the sequel? Well, according to EW….
Revenge Wears Prada picks up eight years after Andy parted ways with Miranda on bad terms. Andy is now editing The Plunge, the hottest bridal magazine around, alongside Emily, her one-time Runway nemesis turned current BFF. While Andy is planning her own wedding to Max, a handsome media scion, she remains haunted by her impeccably heeled former boss — and the magazine world being as small as it is, it's only a matter of time before she hears the dreaded syllables "Ahn-dre-ah!" again.
The book will be released in early 2013, giving stars Anne Hathaway, Emily Blunt and – of course – Meryl herself plenty of time to decide whether it's a film they'd want to be a part of. But The Devil Wears Prada actually managed to be interesting and fresh whilst toeing the traditional rom-com line; we'd actually be pretty up for seeing what happened next, not to mention welcoming Streep back into the icy cold role of Ms Priestly. You up for another stride down the catwalk?
About The Author