Disney's Oscar nominated short Paperman appears online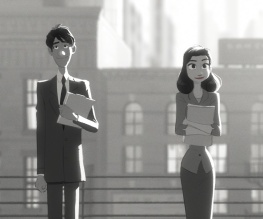 Paperman, the Oscar nominated short film by Disney has appeared online and is available to watch in full. The six-minute long black and white animation tells the story of a man trying to get the attention of a woman by flying paper planes to her. Things don't go quite to plan when there is a big gust of wind and soon our hero is chasing after the woman of his dreams, and the planes that follow her. Watch the film below.
The film was directed by John Kahrs, who has in the past worked on Monsters, Inc, The Incredibles and Ratatouille, but this is his first time directing. The film has been met with mass praise over twitter, and now stands a good chance of winning the Oscar for Best Animated Short Film. It will be competing against four other short films for the award.
Paperman is the best piece of animation we've seen in years and has an old-fashioned feel, despite using a mixture of traditional 2D animation and CGI. Kahrs has said that he worked with Glen Keane on the project, who animated Disney classics The Little Mermaid, Beauty And The Beast and Aladdin. Their idea was to create a visual that used the hand-drawn images that animators used to work with, but employ modern technology to animate it. The result is funny, charming and beautiful to watch.
Let us know what you think of Paperman below!
About The Author