Django Unchained gets explosive new trailer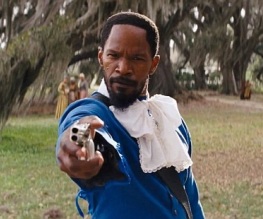 Django Unchained still isn't here. Can you feel how not here it is? We're definitely not going to see it later tonight, or even next month. Because it's still not here. And it won't be here until January 18th for us plucky islanders. Why should we be so thoroughly on the back foot of cinema releases? We gave the world Creme Eggs and Ben Whishaw. WE DEMAND DJANGO. Wah. Here's the new – and final – trailer:
Lest we forget, Django Unchained is about bounty hunters, and it is a western. Of sorts. So we shouldn't be too surprised by the significant boost in gunplay that dominates the new trailer. Guns galore! Django is a dab hand with a pistol. And he likes the way you die. We've probably heard that line 107 times by now and it's still ice cold. More guns! The trailer is mostly Django unloading weapons, but it also features Samuel L. Jackson as Leonardo DiCaprio's right hand manservant (woo!), and a soundtrack dominated by Rick Ross (boo!).
There's nothing left to say about Django Unchained. It looks like awesome. We're exhausted by it's continued pre-brilliance in its trailers, posters and morsels of information. Django Unchained saturation levels are running dangerously high, and we're almost glad this is the last trailer before it FINALLY ARRIVES. We can't take any more teasing.
About The Author