Dumb And Dumber 2 Announced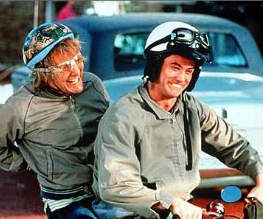 Do you remember how, in the old days, a new movie would be announced and we would sit here and explain the plot to you and get excited about all the brand-new possibilities it presented?
Yeah. Those days are dead.
In a bid to jump on the overladen remake wagon, producers have now confirmed that Dumb And Dumber 2 is confirmed to begin shooting in September.
Co-director Peter Farrelly has revealed to ComingSoon.net that he is in the midst of planning a follow-up to the hit 1994 comedy, which told the story of Jim Carrey and Jeff Daniels embarking on a cross-country adventure (the hook being that they were both really, really stupid).
In an eloquent and moving speech, Farrelly explained his reasons behind the sequel:
"So we've always wanted to do a sequel and Jim called up. Jeff always wanted to do it. We always wanted to do it. Jim was busy, but he called and said, 'We've got to do this thing again'. He had just watched Dumb And Dumber and he said, 'This is the perfect sequel. Let's do it."
It takes a couple of times reading that before it begins to make sense, huh? Basically, Jim Carrey is finally on board with the sequel idea (maybe he ran out of work elsewhere?) and, therefore, Dumb And Dumber 2 is happening. It's literally happening and there's nothing we can do about it.
Farrelly will once again direct with his brother Bob, and Sean Anders and John Morris will write the screenplay. Shooting is set to begin in September and, let's face it, it'll probably make a lot of money at the box office. Adam Sandler was just voted Best Movie Actor at the NKCAs, after all; who's to say what's good and right anymore?
It's the end of the (film) world as we know it and we don't feel fine. How are you coping with the remake / reboot trend?
About The Author