Dwayne Johnson to play Hercules?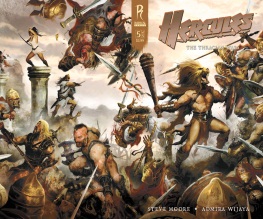 Dwayne Johnson has begun talking to MGM about taking the lead role in Hercules, to be directed by Brett Ratner. The film will be based on Radical Publishing's Hercules comic books, which by implication means it'll be more absurd and entertaining than if it were based on the fusty old myth.
The comics consist of two series, The Thracian Wars and The Knives of Kush. They give a darker, bloodier take than the Hercules we're familiar with (The ginger Disney one, presumably). This Hercules is a 'dark, world-weary soul' who only takes solace 'in bloody battle,' wandering the Earth with a band of six equally mean warriors.
Ratner and Johnson seem like a good pairing for this comic-book adaptation. The screenplay was written by Ryan Condal, the man who was working on Paradise Lost (aka the toughest book to adapt to film ever) until it was shelved recently. Hopefully Hercules won't suffer a similar fate. With The Rock involved though, we have a good feeling that everything will turn out alright.
About The Author