Edward Norton will be replaced as The Hulk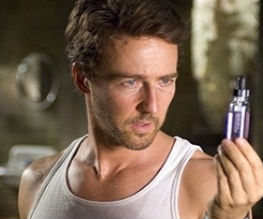 It appears Marvel did not like Edward Norton when he was angry. Or any other way for that matter, as the news was broke today that Norton will not be reprising his role as The Hulk in the upcoming Avengers movie. Marvel has stated that the decision is, 'rooted in the need for an actor who embodies the creativity and collaborative spirit of our other talented cast members.' Ouch.
Marvel fell out with Norton over the final edit of The Incredible Hulk and it would appear the bad blood is still boiling. This is a shame because according to Norton's people, the star was keen to be involved, partaking in successful talks with Avengers director, Joss Whedon before Marvel made their position clear. With an expensive star cast including Robert Downey Jr. as Iron Man and Samuel L. Jackson as Nick Fury, is has been speculated that Marvel will keep costs down by casting an unknown in the newly vacated role. We're fully siding with Norton who surely didn't deserve such a catty remark from Marvel – it's not that easy being green after all.
About The Author