Eli Roth's Grindhouse spin-off still in the works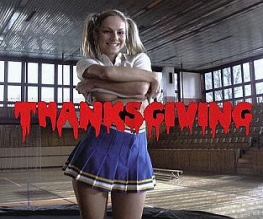 With Machete getting the trilogy treatment after the original scored a tidy sum at the box office, it's not exactly surprising to see the other faux trailers attached to 2007's throwbacksploitation effort Grindhouse eyed up for inspiration.
While Eli Roth has been talking up Thanksgiving for some time, it has been a while since anything new has been heard regarding the project. Speaking to Behind The Thrills, Roth offered an update, announcing that Jon Watts and Christopher D. Ford (who produced another faux trailer) are both on board as writers.
"It's gonna happen. I'm working with the Clowns writers on it," he explained, referring to Watts and Ford. "We finally cracked the story and figured out how to make it really, really scary, and a reason to do it. Before Jon starts shooting Clown[s] he has a window."
Originally conceived with writing partner Jeff Rendell, Thanksgiving was originally set to follow a kid who falls in love with a turkey, only to see it slaughtered and served up for dinner. Following years in an institution after he murders his family, the killer in question returns to take revenge on the town itself.
Although at this stage it is unclear who will likely direct Thanksgiving, it definitely seems to be on its way. When the film does eventually reach cinemas, it will join fellow Grindhouse spin-offs Hobo with a Shotgun and the Machete franchise (as well as, presumably, a feature length Clowns, too).
So are you thankful for Thanksgiving? Or would you rather have seen a full-length version of Werewolf Women of the SS?
About The Author