Ellen Page to make directorial debut; Anna Faris to star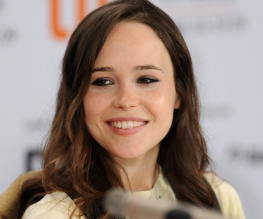 We are certainly not lacking in directorial newbies this year, particularly lead-actors-turned-directors. It's currently ALL the rage. Joseph Gordon-Levitt wowed audiences at this year's Sundance Festival with Don Jon's Addiction, a story about a "selfish dick" (his own words). Ryan Gosling is set to direct dark fairytale How to Catch a Monster with girlfriend Eva Mendes and Doctor Who's Matt Smith. And now, Juno's Ellen Page will be repping it for new female directors everywhere, as she makes her directorial debut with Miss Stevens, with Anna Faris in the lead role (who prefers 'AR-na Faris', thank you very much.)
The film, written by The Keeping Room's Julia Hart, will be a journey of self-discovery for disillusioned teacher (Faris) as she takes a bunch of high-schoolers on a weekend drama trip. Miss Stevens will be produced by Gilbert Films (The Kids Are All Right) and Anonymous Content (Winter's Bone), so looks set to be an eclectic mix of drama versus feel-good.
At least we can rest easy in the knowledge that young Ellen Page won't be doing all the work herself (she's only 25! She still looks 17!). Having said that, Page will still have to wait a while before she can call herself director on IMDb. She'll be busy promoting espionage thriller The East and Lynn Shelton's Touchy Feely, about a massage therapist suddenly stricken with an aversion to bodily contact. AS WELL AS returning to reprise her role as Kitty Pryde in the long-awaited X-Men: Days of Future Past.
Meanwhile, ARna Faris is probably somewhere dousing herself in shame for her partaking in the despicable Movie 43 (which probably got a highest star rating on BFF than on any site, ever). The good news is that ARna also appears in new British rom-com (said to be THE BEST BRITISH ROM-COM IN YEARS) I Give It A Year. You can also catch her voice in the Cloudy with a Chance of Meatballs sequel, out in October this year. The review for I Give it a Year will be up on BFF in the next week or so, so look out for it!
Do you think Miss Stevens will be any good? Are you also an aspiring director? 2013 is YOUR YEAR!
About The Author