Elton John to produce a film… about himself?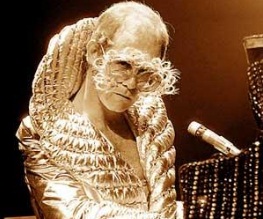 Most people have to content themselves with the fact that, after they've died, a film might possibly be made about them. Not Elton John; he wants to do it now and he wants to do it right. Cue him leaping headfirst into the role of executive producer for The Rocketman.
Yeah, that's right. He's no longer A rocketman; he's THE rocketman. The one and only. Which, in a way, represents how Elton John has grown from humble popstar to British demi-god over the years.
The film will have a lot of ground to cover; from his sexuality to his friendship with the late Princess Diana (a woman who did pass on before getting a terrible biopic in the shape of Unlawful Killing), Elton's life will prove anything but dull. And, with plans to showcase The Rocketman in a non-linear manner, we imagine that there will be several different actors taking on the role of Elton at different stages in his life.
Who do BFF fancy in the role? Caroline wants Greg Kinnear, John wants Stanley Tucci and I quite fancy Zac Efron for YOUNG Elton (because it'd be hilarious). Will it be a musical? Probably not, but that would be awesome too. We do know that, with Cameron Crowe as director, this is going to be something utterly spectacular and completely hyper-visual.
I guess this is Elton's way of saying "don't let the sun go down on me"…
About The Author