First official picture from Burton's Dark Shadows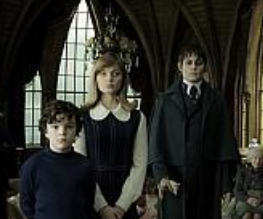 Last week we got a sneak peek of Tim Burton's Dark Shadows – a (shock horror) gothic flick based on a 70s vampire-soap of the same name. It was basically a picture of Johnny Depp looking weird – much like all sneak-peeks of Burton features are – and filled us with doom at the prospect of yet another Wonderland/Chocolate Factory colour-fest. However, the official picture released today has cheered us up immensely.
Based on the trials and tribulations of of Barnabus Collins (Depp), your average neighbourhood vampire, Dark Shadows could go one of two ways – zany, stripey, Helena-Bonham-Cartery camp, or dark, classy, slow-burning gothic fun. With Helena Bonham Carter. Based on the photo below, we're hoping its the latter:
From left to right, we've got: Dr. Julia Hoffman (Helena Bonham Carter); Carolyn Stoddard (Chloë Moretz); Angelique Bouchard (Eva Green); David Collins (Gulliver McGrath); Victoria Winters (Bella Heathcote); Barnabas Collins (Depp); Mrs. Johnson (Ray Shirley); Willie Loomis (Jackie Earle Haley); Roger Collins (Jonny Lee Miller); Elizabeth Collins Stoddard (Michelle Pfeiffer). Whew.
About The Author