Emma Stone confirmed for new Spider-Man, but as Gwen Stacy!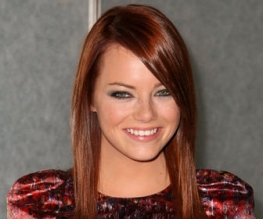 Just two days ago we reported that Emma Stone was being rumoured for the role of Mary Jane Watson in Marc Webb's upcoming Spider-Man reboot, leaving the role of primary love interest, Gwen Stacy, still up for grabs. Well, it seems those rumours were wrong; Emma Stone will not be playing Mary Jane Watson. She will, however, be playing Gwen Stacy! Does that make sense? Our brains hurt.
The official announcement was made by Amy Pascal, co-chairman of Sony Pictures Entertainment and Matt Tolmach, president of Columbia Pictures, with the latter referring to Stone as an "extraordinary talent." Speaking of Stone's casting, director Marc Webb added; "The chemistry between Andrew [Garfield, who will be playing the hero] and Emma was stunning and made Emma the clear choice." He also commented that their "choice for Gwen is also a natural blonde", stunning all us fools who assumed the 'redheaded' actress would be perfect for a more fiesty envisioning of Mary Jane. What a trickster!
The reboot will return to Peter Parker's teenage years at high school where Gwen Stacy will be Parker's first love and the likely focus of the film, with Mary Jane waiting in the wings for a sequel. Those familiar with the Spidey comics may lament Stone's new position as it means she may no longer become a franchise mainstay. More crucial, however, is the mystery that this news leaves behind: if she's Gwen Stacy, who's Mary Jane?! As we reported last time, this is one tangled web indeed.
About The Author