Emma Watson poledances in new Bling Ring trailer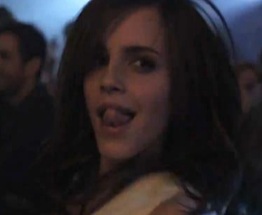 Emma Watson has made a clear, in-your-face point of leaving her Hermione Granger roots behind and sexing up her image in the new Sofia Coppola film, The Bling Ring.
The Bling Ring, set to be released on June 14, is Coppola's fifth film and will also star Taissa Farmiga and Leslie Mann. As the somewhat stupid title suggests, the synopsis of the film is, well, somewhat stupid. Inspired by "actual events", a group of fame-obsessed teenagers use the Internet to track "A list" celebrities' such as The Hills star Audrina Patridge, Lindsey Lohan and Paris Hilton in order to rob their homes. Paris is rumored to be playing herself – so we're sure we can expect the usual over the top performance from her.
A teaser trailer for The Bling Ring has been released which depicts a montage of shoes, sex and slo-mo strutting, all to the beat of  Crown on the Ground by Sleigh Bells. Emma Watson licks her lips provocatively in a club, pouts a lot, steals stuff and pole-dances. We can't help but think that the overall effect is her trying a little bit to hard to leave sweet, sensible Hermione behind her.
Will you be watching The Bling Ring? Let us know your thoughts!
About The Author