Fast & Furious 6's last trailer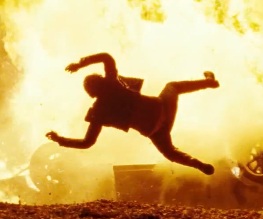 We've just got enough time for one last hurrah. The latest installment to this NOS-charged franchise, Fast & Furious 6, will be careening on to our screens come May 17th and there is no better way to up the anticipation than by releasing a brand new version of the trailer. The revamp blends in some brand new footage with the clips we've already seen, giving you an expanded look at the vehicular warfare that's about to take place.
Well? What you waiting for? Check out all the chaos below:

Admit it, after that epic vault chase scene in Fast Five, you'd be excused for assuming that things were going to just go downhill from here. Producer Neal Moritz's claims that Fast 6 contains "the best action sequences you will ever see" sounded like a whole lot of hype to us, but the newest sneak peek has been working to lay our worries to rest. With the introduction of the sexy cars being featured and a good gander at the death defying stunts to be expected, Fast & Furious 6 is shaping up to be exactly as promised.
Picking up from where the last left off, our motley crew of drivers, thieves and smart-asses have gone their separate ways kitted out with a cut of that sweet payday of $100 million dollars. Their peace is hindered by Agent Luke Hobbs (Dwayne Johnson) who keeps to his word and tracks Dom (Vin Diesel) down, only to ask for his help in bringing down another crew of lethally skilled mercenary drivers masterminded by Owen Shaw (Luke Evans). The catch: Letty (Michelle Rodriguez) turns out to be not so dead but rather living dirty and dangerous as his second-in-command. Never one to turn his back on family, Dom assembles Brian (Paul Walker) and the rest of the pack in London for some car-to-car combat.
This will be Justin Lin's final foray into the world of F&F chaos but don't worry your pretty little heads about it, the 7th edition of the Fast & Furious franchise is already in the works with James Wan taking over the driver's seat.
About The Author