First clip of Michelle Williams as Marilyn Monroe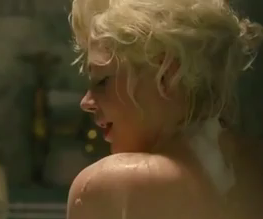 Last week we brought you the new poster for upcoming biopic My Week With Marilyn, in which star Michelle Williams seemed to be doing a darn good job of embodying Hollywood's most iconic heroine. Now we have even more proof for you: this time, the picture MOVES.
Showcasing some trademark Marilyn sex appeal via the means of having a sexy sexy bath, this first clip not only gives us a little look at Williams naked (enough for one clip in anyone's book), but also lets us listen to her sultry singing tones. All in all, we have to say we're impressed. Take a look:
Mmmmm… a lovely back. If you're still not sure about Miss William's take on the legend that is Monroe, she still has a bit of time to convince you; My Week With Marilyn opens here on the 25th November.
About The Author