Lindsay Lohan goes down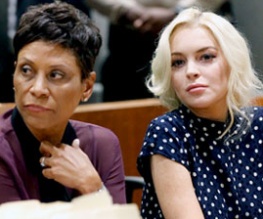 Oh, Lindsay. It's been a while since dear old LiLo's legal entanglements dominated our news schedule, so shall we have a recap? A couple of years after her original 2007 jail term, she was sentenced to jail for missing alcohol education classes, then she actually got banged up amid rumours that she might be eligible for early release from her 90 day sentence.
Sure enough, LiLo was out and about after just a fortnight, only to be investigated shortly afterwards for reportedly assaulting a technician at the Betty Ford Clinic. She then went on to be accused of stealing a $2,500 necklace from a Beverly Hills shop, successfully posting bail but eventually being sentenced to 120 days in jail (which she served under house arrest for a mere 35 days) along with 360 hours of community service at the Downtown Women's Center and 120 hours at the L.A. County morgue. Still, at least she's not back in prison!
Yet. Despite a series of absurdly lucky escapes, LiLo has continued to push her luck and was yesterday sentenced to a 30-day prison stay for violating the terms of her probation (although she is likely to complete just 2-6 days due to overcrowding). However, a further 270 days behind bars will be hanging over her head unless she completes a strict list of tasks set by Judge Stephanie Sautner. Lohan must turn herself in within one week and then return to court on December 14th, by which time she must have completed 12 community service days at the morgue (the Women's Center won't have her back, and the cheerily named Good Shepherd Center for Homeless Women has also turned down her 'help') and undergone four psychotherapy sessions. She'll have to put in the same hours between December and her next court date on January 17th, and if she makes it that far without cocking up her final target will be to complete another 17 days community service and six therapy sessions before March 29th. Successfully completing the 41 days morgue work and 14 therapy sessions will void her probation with immediate effect; however, if she fails to meet any of the court's requirements she can expect to be banged up immediately. Also, just for fun Lohan has been banned from leaving the country and can't set a foot outside California without her probation officer's permission.
Did you get all that? We doubt Lindsay has… check back in a few days for news of her imminent execution. Surely it'll be cheaper in the long run?
Blimey. Think this'll straighten LiLo out? Let us know below!
About The Author