RZA is newest addition to star-studded Django Unchained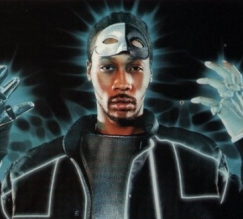 Django Unchained is going to be MENTAL. Our dear friend Quentin Tarantino has been filling the roster with all the stars for some time: including Joseph Gordon-Levitt (yay), Jamie Foxx (repeated yay) Samuel L. Jackson (nats), Kurt Russell (he's still a star to us) and, interestingly, Leonardo DiCaprio as a full-on villain.
And now we can add RZA to to the mix. The Wu-Tang Clan member has been very successful in moving from music to movies over the last few years, largely due to the fact that he can actually act and (unlike most aspiring movie-star rap prima donnas) he's happy to work his way up through bit parts and character roles.
We're actually fans of his, largely because of that lovely scene in Coffee and Cigarettes where he talks herbal medicine with Bill Murray for ten minutes. Also he was pretty damn good in Funny People and you can't look us in the eyes and tell us you're not looking forward to his directorial debut The Man with the Iron Fists.
RZA worked with Tarantino previously on the soundtrack to Kill Bill, but this will be his first time acting under him, playing Thaddeus, a violent slave working on a plantation in Mississippi. We're looking forward to it, and so should you.
About The Author