First look at Hugh Jackman in Les Miserables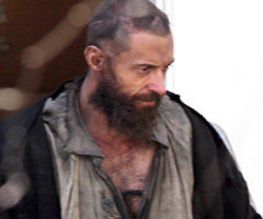 Now that director Tom Hooper's Les Mis casting saga is FINALLY over, it's time for the age of Tiny Glimpses Of People In Character, HURRAH! First up is Hugh Jackman as protagonist Jean Valjean, and we're embarrassingly excited by how utterly unfortunate he looks.
Judging by the swanky attire, we're guessing Jackman is gearing up to film one of the opening sequences; Valjean on the run from the law after being imprisoned for many years for stealing a loaf of bread. SO NOBLE AND SO BEARDED, take a look:
He looks ace. This is ace. Are the floodgates now open for tiny snippets of every single actor we've just spent the last few months waiting to get cast? Yes, yes they are. JOURNALISM, MOTHERF*CKERS.
About The Author