First Look At 'To Rome With Love'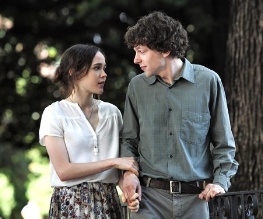 Woody Allen is in the midst of a torrid love affair with Europe at the moment; he's now heading To Rome With Love straight outta Midnight In Paris. And we have a sneaky suspicion that this one is well on its way to becoming one of those big summer blockbusters.
The thing about big ensemble films is that, just sometimes, the all-star cast can become more important than the story. Think Valentine's Day and New Year's Eve. But, when you have a great director at the helm, the cast can slip seamlessly into the film, working as part of the entire cinematic mechanism and creating something magnificent… remember Hugo?
So how will a film containing the talents of Woody Allen, Alec Baldwin, Ellen Page, Jesse Eisenberg, Penelope Cruz AND Greta Gerwig fare?
It looks alright, doesn't it? Sure, we don't get very much plot, but the footage allows us to have a good old guess at the overlapping stories. Jesse Eisenberg is a young man caught in a romantic dilemma when girlfriend Greta Girwig invites more-his-type Ellen Page to stay – WHICH WILL YOU CHOOSE, EISENBERG? Add this to him trying to show his dad Alec Baldwin around town and you have a recipe for comic mishap and (probably) many romantic misunderstandings.
Penelope Cruz, the woman famed for slipping into any Mediterranean nationality (Spanish, Portuguese, Greek, Italian; Cruz just doesn't care!), plays a beautiful prostitute with the sole intent of making one man's dreams come true. She's so saucy.
Sure, it probably won't make our brains do much of that annoying thinking thing, but it looks fun, frothy and entertaining; what more do we really want from a summer blockbuster, anyway? Hopefully it'll be far too hot to want to do anything more than stare at pretty things happening to pretty people in a very pretty country.
Will you be going to see To Rome With Love? And do you think it will live up to Woody Allen's Midnight In Paris standards?
About The Author