First pic of Martin Freeman as The Hobbit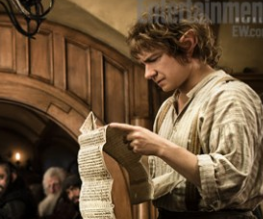 Oh how we've waited for this moment. We've been drip-fed casting news for weeks and weeks now, and with the news that co-Sherlocker Benedict Cumberbatch would be joining Martin Freeman on the set of The Hobbit we didn't think we could get much moister. But we can. The first photos of Martin Freeman in full Hobbit garb has been released and they're JUST LOVELY.
Take a look below, and let those tears drip proudly from your eyes.
Sigh. We always knew he'd be perfect. All this does it make us ALL THE MORE impatient for the release of the film itself, and dammit, we have a long while to wait yet. Still, as long as these images are big enough to convert into bedsheets, wallpaper and wedding dresses (they are, the internet does not lie), we can just about manage. For now, all we can do is watch the trilogy on repeat, and dribble incoherent happy noises. STAY TUNED, SHIRE-FANS!
About The Author