First poster for Martin McDonagh's Seven Psychopaths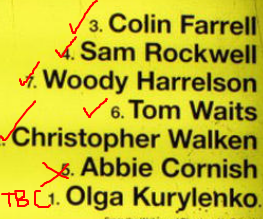 If, like most sentient humans, you've been waiting with sweaty eyes to see what In Bruges writer and director Martin McDonagh will do next, then HURRAH FOR THIS DAY. The first poster for his new film Seven Psychopaths has hit the interwebs, and its packed full of brilliant people and thoughts and possibilities (and also Abbie Cornish of W.E, but we're not going to worry about that for now). No pressure, Martin, but this better be the best thing we've ever seen. Tom Waits is in it. TOM WAITS.
SERIOUSLY, TOM WAITS:
Rocking a Trainspotting vibe here, are we Martin? That's cool, we can get on-board with that. From what we can glean, Seven Psychopaths is based around a tale of a struggling screen-writer (Farrell), who is having difficulties getting his mob-centric screenplay – called Seven Psychopaths – together, seeing as he's never been involved in much violence himself. But GUESS WHAT? Yeah that's right, thing's HELLA start changing when he accidentally gets embroiled in some gang-warfare. Tom Waits' dog flavoured gang warfare. If In Bruges is anything to go by (and it's everything to go by) this will be a darkly comedic, exciting, well-executed and damn classy hit-man thriller. We just can't wait. SAM ROCKWELL! WOODY HARRELSON! THE OBLIGATORY WOMAN! Brilliant.
We've yet to get our hands on a UK release date, but the winds seem to be suggesting it'll be sometime this winter. And frankly, if you can't trust the winds, who can you trust?
About The Author