First Poster for Taymor's Tempest revealed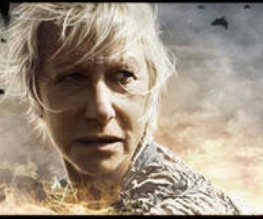 Director Julie Taymor has never shied away from Hollywood-ing up the world of Shakespeare – her Titus Andronicus was an explosion of sex, violence and colour – and judging by the first poster for her upcoming The Tempest, she's still going as strong as ever.
The big buzz about The Tempest is that veteren awesome-er Helen Mirren is taking the role of Prospero (traditionally played by a man). However, according to the team, the script hardly had to be adapted at all to fit the gender switch. Mirren stated
"A while ago, I was watching the play in its traditional form with the great Derek Jacobi playing Prospero. And I was thinking, 'A woman could play this.' We hardly changed a line of dialogue.
"The only thing you have to change is the back-story at the very beginning. And even that fits perfectly. Instead of being a Duke, she's a Duchess who's been dethroned. Thrown out."
The story opens on a desolate island, where a great Duke – sorry, Duchess – has been banished along with her daughter Miranda. It follows Prospero as she attempts to salvage her wrongfully-ruined reputation, as well as keep her daughter away from the lustful eyes of their slave Caliban.
No matter what you make of Taymore's Shakespeare, her films are certainly never dull. We're excited to see what she does with this classic text, so have a click at the poster below, and start getting those codpieces in a twist.
About The Author