First poster for Will Ferrell's Casa de mi Padre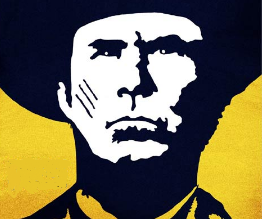 It's been a while since we've heard anything about Will Ferrell's ambitious (and by ambitious, we mean "trying to sell subtitles to mainstream America") project Casa de mi Padre, but seeing as it's hitting stateside screens in March, it makes sense to start the marketing campaign sooner rather than later.
Currently being touted as a 'Spanish film for an English audience', Casa de mi Padre centres on two brothers who get caught up in a war with a drug Lord after an attempt to save their father's ranch. The only international draw is star Will Ferrell, and it looks like distributor Pantelion films is banking on that being enough to rack up a sizable audience. We're saying that because the first poster is a massive picture of Will Ferrell's face.
Taking inspiration from classic (and comedy-rife) Spanish telenovelas, we reckon Casa de mi Padre is one to look out for in 2012. The script has been written and directed by SNL veterens Andrew Steele and Matt Piedmont respectively, so we can be fairly sure of its comedy credentials. And frankly, massive Mexican hats off to Ferrell for trying something a bit different. Adam Sandler, any time you want to demonstrate alternative talents, or indeed any talent at all, you feel free to do so.
About The Author