First shots from Django Unchained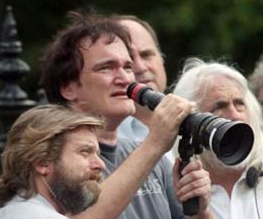 We've been waiting hungrily for more details about Tarantino's eighth feature film for a few months now, and finally our lack of patience is being rewarded. First set pictures of Django Unchained are beginning to surface, and blow us down if they don't feature Christoph Waltz. With his lovely beard.
We all know Waltz as the brutal and brilliant Col. Hans Landa in Tarantino's Inglourious Basterds, but it looks like he's done with his clean-shaven tyrant days – in this he's all beard. He'll be playing a German bounty hunter named Dr. King Schultz, who teams up with the titular escaped slave (Jamie Foxx) to kill a dastardly ranch-owner (Leo DiCaprio.) Take a look below, and marvel at Quentin's impeccable taste in T-shirts.
Is that… Zach Galifianakis? We… we're just not going to worry about that for now.
About The Author