Sparkle Trailer Goes Live!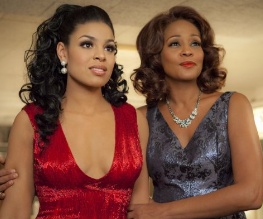 Sparkle is hitting our screens in early October, weaving a vibrant story of fame, stardom, family tension and fleeting fame. It also stars Whitney Houston in her final ever role, which means it'll probably make a killing at the box office.
Inspired loosely by The Supremes, the film is, sure, a remake of the 1976 flick of the same title. But, unlike so many other remakes, it has been (seemingly) lovingly adapted and altered, ready for a modern day audience.
Check out the trailer for yourself…
Three singing teenagers from Harlem. The Motown-era. A single mother. SO MUCH TENSION, SO MUCH TO CONSIDER, SO MUCH POTENTIAL FOR TRAGEDY!
Ahem.
So Sparkle (Jordin Sparks) is the musical talent struggling to achieve stardom, despite a whole heap of family issues back at home. She and her two sisters, played by Carmen Ejogo and Tika Sumpter, are all set to form a girl group in the late 1950s. And their single mom (Whitney Houston) doesn't seem all that pleased by it, does she?
It may feel a little similar to Dreamgirls in theory, but, you know, it's a completely different film. And, starring Cee Lo Green, Derek Luke, Mike Epps, Cee Lo Green, Vickie Winans and Omari Hardwick, it's defintiely set up to blow the minds of anyone who loves a shimmy-shake to a bitta old Motown.
Will you be going to see Sparkle in October?
About The Author