First shots of Diaz and Firth in Gambit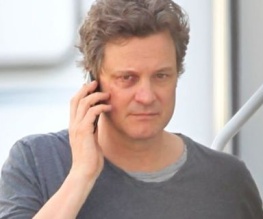 They look like quite the pair. Below is the first image from the set of Michael Hoffman's (The Last Station) remake of crime-comedy Gambit, which has just started filming in London.
Gambit, written by Joel and Ethan Coen, sees art curator Harry Deane (Colin Firth) conning the Sheriff of Nottingham England's richest man, Lionel Shabandar (Alan Rickman) into purchasing a fake Monet painting. He recruits Texas rodeo queen PJ Puznowski (Cameron Diaz) to pose as the granddaughter of the man who liberated the painting during WWII.
No release date for Gambit has been set yet, but it looks typically oddball. All we can tell from this photograph is that Gambit isn't likely to win any awards for costume, given that Firth looks like a carbon copy of Michael Caine (star of the original Gambit), and Diaz has dove head-first into Dolly Parton's wardrobe.
About The Author