First shots of Tobey Maguire in The Great Gatsby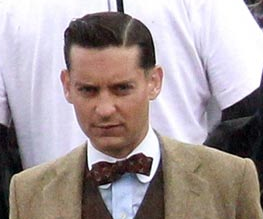 We were treated to a wee snippet of The Great Gatsby filming back a couple of months ago, but now we've got some full frontal Tobey Maguire action and we couldn't be happier about it. There's a sentence we never thought we'd write.
Maguire, who is starring in Baz Lurhmann's adaptation of the F Scott Fitzgerald classic, was captured wandering about aimlessly (or whatever) dressed as his character Nick Carraway – the everyman who gets caught up in the bright lights and hazy dreams of Gatsby et al. With a cast that includes Leo Di Caprio, Carey Mulligan, Isla Fisher and some other people less disappointing than Isla Fisher, there's no denying that The Great Gatsby will be one of the most hotly anticipated flicks of 2012.
PICTURES!
SO DAPPER.
About The Author