First teaser for Brave now online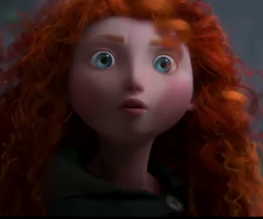 Apparently shrugging off the rather dismal critical reaction to Cars 2, Pixar are turning their attention to their next release, Brave. We've had rather a lot from the Brave team of late, and – though we're as grateful as a Dreamworks executive reading yesterday's papers – we're beginning to worry that they're showing their hand too early. Still, it's not going to stop us from watching it, right?
Brave follows the tale of a flame-haired Scottish princess who sets off on an epic adventure when she realises she has broken a sacred vow of her kingdom. We've already had a lovely poster, some characters shots as well as a still or two, but this is the first time that we can see the story in motion. Enjoy. It's ever so pretty.
It's the details like the individually animated blades of grass, the swish of each hair (Cat Deeley?) and beautiful textures making up the surrounding woodland that really takes our breath away in this trailer. And not too much is given away, so hurrah. Let's keep it that way, OK Pixar?
About The Author