First teaser for Spanish horror The Body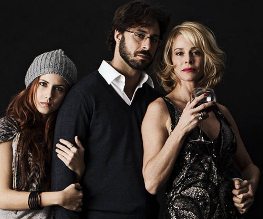 Those who enjoyed 2010's horror Julia's Eyes will be pleased to know that the writer – Oriol Paulo – is back. And this time, he's not just in charge of the words, he's all over the moving and pointing the camera bit as well. El Cuerpo (The Body) is Paulo's first major directing role, and by the looks of it will be taking a lot of inspiration in tone from the way Guillem Morales directed his blindness-based first feature.
Releasing just a short synposis, a poster and a teaser, it's fair to say that Paulo is keeping the details of this production fairly close to his chest. And we like it this way. So, what do we know?
A woman's body vanishes from the morgue in mysterious circumstances. In the course of a single night, Inspector Jaime Peña investigates the disappearance with the help of her widower.
Check a bit of poster fun for your troubles:
Admittedly it's all a bit in that Spanish for now, but our labouring monkeys inform us that the tagline amounts basically to "Death is not always the end".
And a teaser? Jeepers you're awfully needy today:
Again, there's the langauge barrier, but it's a visually lovely enough trailer for us to appreciate it all the same. No word yet on when The Body will get an English – or indeed, Spanish – release, but DIOS MIO we'll keep you informed.
About The Author