First trailer for Jason Segel/Ed Helms comedy Jeff, Who Lives At Home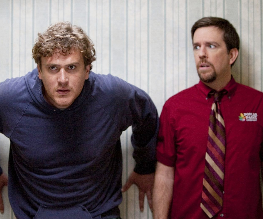 If there's one man who has the Midas touch at the moment, it's Jason Segel. Set to utterly delight the world in the upcoming Muppet movie, the charming-looking The Five Year Engagement and having been the redeeming feature of last year's Bad Teacher, when he's involved with a comedy, we tend to pay attention to it. Especially when the comedy in question has got The Hangover's Ed Helms in it. And Susan Sarandon. As their mum.
The three star in Jeff, Who Lives At Home – an underdog comedy centred on a useless waster (Segel) who spends his life waiting for the universe to deliver a purpose to him. After a series of seemingly unconnected events lead him into chance encounters with members of his family, he vows to sort out his and their lives once and for all. Take a look at the trailer, and see what you think:
We're not totally sure what to make of this, to be honest. The comedy seems to be amiable and gentle, relying more on the delivery than anything else in order to generate laughs. We've seen this style from the Duplass brothers before (remember last year's Cyrus?) and it can often get a little frustrating, but we're willing to go in with an open mind. It's a great cast, and hell, we'll never pass up the opportunity to see Susan Sarandon in a wet T-shirt.
About The Author