Firth and Diaz to star in Coen-scripted Gambit remake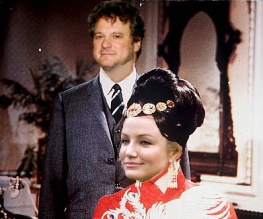 How's that for an informative title, eh? Colin Firth and Cameron Diaz are set to appear in a remake of 1966 crime comedy Gambit, which originally starred Michael Caine and Shirley MacLaine as two criminals planning to steal a priceless work of art.
Michael Hoffman, who recently directed Tolstoy biopic The Last Station, is to direct and Joel & Ethan Coen have produced a new screenplay.
The cockney cat burglar and Hong Kong showgirl from the original will be replaced by an art curator (Firth) who plans to foist a fake on a hapless millionaire collector and inexplicably enlists "PJ Puznowki, a steer roper" (Diaz) to help him. Quite what the Coens think a steer roper would be doing in London, with or without a name like Puznowki, is anyone's guess. Still, we're rather excited – filming is due to begin this May, so Gambit should be lined up for a 2012 release. Not a lot of people know that.
About The Author