Firth earns his Star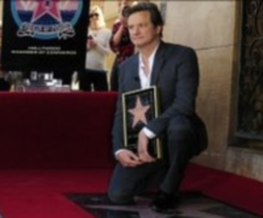 Colin Firth was presented with a star on the Hollywood Walk of Fame yesterday, in a ceremony that saw the charming Brit moved to tears as he dedicate the honour to his wife Livia Giuggioli.
"I want to thank everybody that has accompanied me on this extraordinary journey, but probably more than anybody I could ever imagine Livia who has walked every step of this with me joyfully and truthfully," he said.
As he dabbed his eyes, he remarked: "When I look down there at that star, it's her name I see." The cutie.
Colin's star is situated on 6714 Hollywood Blvd., just in case you wanted to find it.
This could herald a very good week for Colin, who's up for Best Actor in the Golden Globes this Sunday for his performance in The King's Speech.
About The Author