Francis Ford Coppola Talks Twixt Now and Sunrise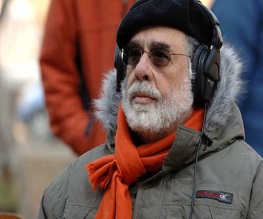 Discreetly going into production late last year, director Francis Ford Coppola has been tight-lipped on Twixt Now and Sunrise, his indie genre feature starring Val Kilmer, Bruce Dern, Elle Fanning, David Paymer, and Ben Chaplin.
While it is certain that Kilmer will play a horror novelist, little is currently known about the film's plot, though the title is a direct reference to the 1835 short story by Nathaniel Hawthorne, "Young Goodman Brown," set in 17th century Salem, Massachusetts. The title character, Goodman Brown, is returning home to his wife, Faith, when he encounters a man in the forest who is likely the Devil. His wife an allegorical reference to literal faith, Brown at one point explains his travels, saying, "My journey, as thou callest it, forth and back again, must needs be done 'twixt now and sunrise."
Coppola recently revealed an ambiguous tidbit about the project to Empire saying that "It's part personal film, part Gothic romance, part Halloween show."
Not very informative, but sounds deliciously warped and macabrely titillating nonetheless.
About The Author