Freeman scoops Lifetime Achievement Award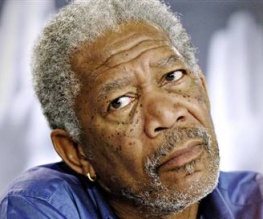 Oscar-winner Morgan Freeman is to be honoured with a special award from the American Film Institute.
Freeman, who won the Best Supporting Actor gong in 2005 for his role in Million Dollar Baby, has received a further four nominations since 1989. He also holds the informal 'Everyone Wants Me To Narrate Their Life' award, with his nerve-tinglingly husky voiceovers forming much of the background to our collective childhoods.
Freeman is perhaps best known for his role in The Shawshank Redemption, but has taken on a wide variety of challenging characters including Nelson Mandela (Invictus) and God (Bruce Almighty). He also stars in forthcoming action thriller RED, which will see him star opposite Bruce Willis, John Malkovich and Dame Helen Mirren. We know, it sounds too cool for words.
The AFI's Life Achievement Award is one of the highest accolades which an American actor can receive, and Freeman is only its fortieth recipient. We're very pleased for him. *applause*
About The Author