Natalie Portman for Alien Prequel?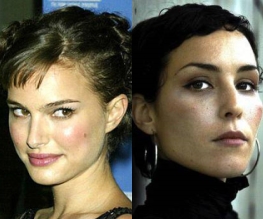 It seems like quite a while now since the excitement first rippled across the gossip columns about Ridley Scott's planned return to the Alien franchise. However, whilst we're still waiting for any firm, cast iron casting or plot news on the film(s), word has reached Vulture blog of two interesting developments. First that former LOST show-runner Damon Lindelof has nailed the latest draft of a script, and secondly that Natalie Portman is in the running for the lead role.
With the part rumoured to be that of a "female military general", it almost seems like Scott is deliberately looking for actresses who can do the short hair thing well (Portman even did her finest G.I. Jane look in V For Vendetta), with the other most touted actress being Sweden's Noomi Rapace, star of The Millennium Trilogy. It's still early days for the casting process, though, and many other stars have had meetings about the film, including Carey Mulligan and Abbie Cornish (who worked with Scott on A Good Year).
Meanwhile, Fox studio executives are reportedly delighted with Lindelof's latest screenplay, seeing it as an approach that is intriguing, creative and – most crucially – won't add millions to an already weighty budget (the current rumour is around $150 million). The tone is said to be a return to the suspense fueled horror of the original, with a story that explains the origins of the "Space Jockey." But who should be the close-cropped lady to tackle it? Portman? Rapace? Rihanna?! Tell us your views.
About The Author